Local Councillor gives full support to Llanmoor Homes
13-Jul-2016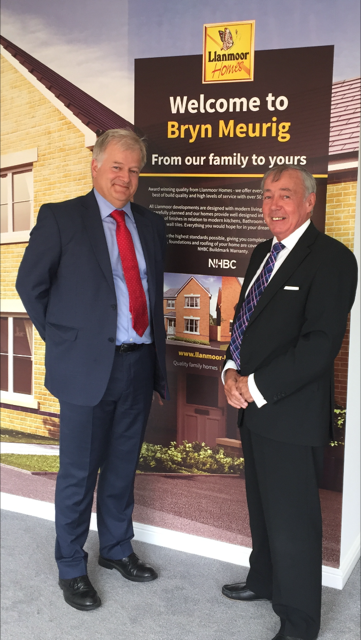 Family-owned home builder, Llanmoor Homes, is well known in Rhondda Cynon Taf. As well as having their head office in Talbot Green, Llanmoor have several successful developments in the county.
Local Councillor Barry Stephens, who was Mayor of Rhondda Cynon Taff from May 2015 to May 2016, feels that Llanmoor's involvement is vital to local communities and has been glad to assist Llanmoor in gaining planning consent for developments in the area.
Barry said: "It's vitally important that we address the shortage of new housing in Wales, but it's not often that you find a developer who is so interested in not only building homes, but also benefiting the existing communities surrounding their developments.
"Llanmoor have made significant financial contributions to Rhondda Cynon Taff over the years under Section 106 planning agreements and many improvements taking place within the county have been made possible because of their developments. In particular, Llanmoor have made provisions for safe parks and outdoor play areas for the use of all children living in the area which otherwise may not exist."
One of Llanmoor's current developments in the area, Bryn Meurig in Llanharry, was struggling to gain planning permission, as it wasn't included in the Local Development Plan for the current plan period, until Barry intervened.
"I could see that the development was going to be of huge benefit to the community in Llanharry and could deliver much needed further private and affordable housing in a very short timeframe, so I felt it was really important that Llanmoor gained permission to go ahead with the development and strongly recommended that formal approval was granted" said Barry.
"Llanmoor agreed through the consultation period that, should formal approval be granted for the development, they could be on site the next day starting work, and they were absolutely true to their word – machines and construction teams were there they next day starting to lay the foundations for the new homes."
Bryn Meurig is not only an incredibly successful development for Llanmoor Homes but also for the surrounding areas. Through contributions to transport, education, road improvement, Homestep and social housing provision and the new play area, Bryn Meurig has brought over £1.1 Million of investment to the local community in Llanharry.
Tim Grey, Sales Director at Llanmoor Homes, said: "We're extremely thankful to Barry Stephens for his continued support of Llanmoor Homes and our developments in the Borough. It's very important to us to create well thought-out developments that benefit the people surrounding them as well as the people living on them, and it's great to know that this is recognised by local officials.
"Local people would often prefer not to see development in their areas and in many ways that is understandable, but it's important that they're made aware of the huge improvements that can be made to their local schools, roads and amenities as a direct result of new housing developments.
"We're looking forward to continuing working with Barry and other Local Ward Councillors to ensure that we can keep providing much-needed new homes in Rhondda Cynon Taff and making contributions to communities that will enrich the lives of people living in and around our developments."