From Sales Advisor to managing her own site; how Lily has progressed with Llanmoor Homes
26-Sep-2022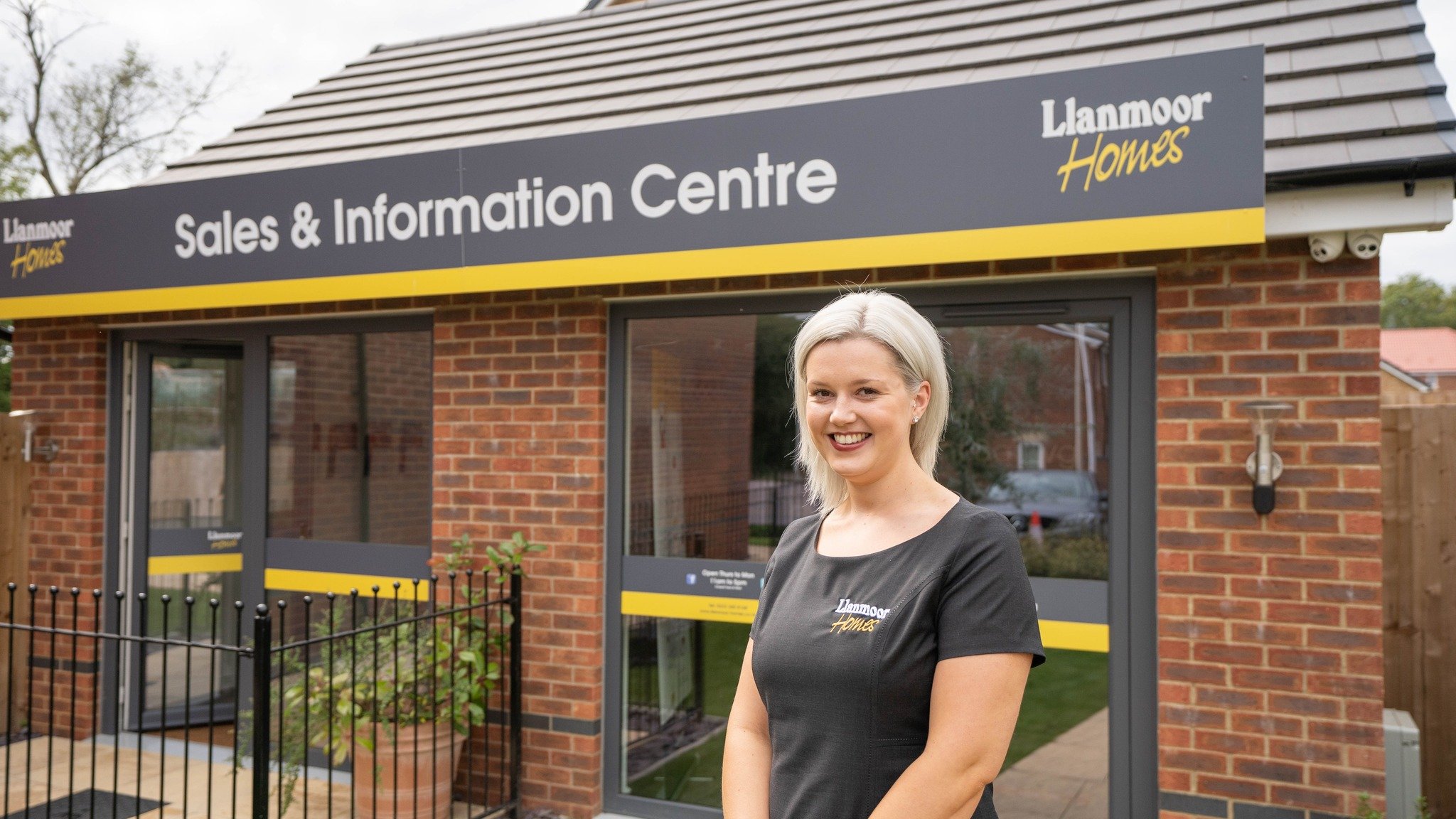 Lily joined the Llanmoor Homes sales team in November 2017 as a Trainee Sales Negotiator, after deciding she wanted to gain some life experience after finishing school. Since joining us at the age of 21, Lily has progressed leaps and bounds in her role, and has recently been promoted to manage her very own site at Parc Tondu.
Read on to hear what Lily has to say about all things work, new builds, and house types…
'There's a lot of work to do, but I would much prefer to be busy'
During her five years with Llanmoor Homes, Lily has mastered all things sales and is really enjoying having her own site. Lily said, "I've really enjoyed it. I've been really looking forward to having the opportunity to run my own site for a long time, and although there's a lot of work to do, I would much prefer to be busy than quiet".
With 405 two, three and four-bedroom homes set to be built at Parc Tondu it's an exciting development to be a part of. The development will see the introduction of a number of new homes and beautiful new external finishes to really show off the homes to their best. 
'It's lovely to be a part of their journey'
As her role is customer-facing, Lily meets lots of couples and families every single day, from first-time buyers to growing families.
From their first meetings, to reservation and colour selections all the way through to completion, Lily said "it's lovely to be a part of their journey, seeing how excited buyers get on moving in day makes my job really enjoyable and now extra special as it's my very first site of my own."
At Llanmoor Homes we strive to offer exemplary customer service throughout your entire experience. Discover what previous buyers had to say about theirs.
Llanmoor Homes has helped me grow massively
"Five years ago, I started as a very shy and very quiet 21-year-old Trainee, and I spent time on all of our developments with the different sales teams. I feel that I have grown massively, learning from my colleagues and seeing how they deal with certain situations. However, I'm still learning now – every day is a learning day!"
Lily added, "I love working for Llanmoor, it's the most settled I've ever felt in a job. As Llanmoor is family-run, everything has a personal touch. Everyone is really approachable, friendly and willing to help."
Since its founding in 1966, Llanmoor Homes has been run by the Grey family when Brian Grey built the company's first development of bungalows in Brynna in Rhondda Cynon Taff. We believe there is nothing more important than family, which is why we care so much for each and every family that is moving into their new Llanmoor Home.
What advice would Lily give to someone who is considering buying a new build?
There is nothing quite like buying something brand new, especially when it comes to a home. No one else has lived there, you're the first to take a shower, sleep in the bedroom, use the kitchen and to stamp your identity on it. It's the perfect blank canvas to start your new life.
So what advice would Lily give to someone who is considering buying a new build home?
"Do it! They are low maintenance, have a 10-year NHBC warranty, plus you get two years with our brilliant Customer Care team. Plus, if you've chosen Parc Tondu then you get to deal with me! Who wouldn't want a new home?"
The Chelsea two-bed home is so cute!
As a new build expert, Lily loves all of Llanmoor Homes' house types but said her favourite would have to be the Chelsea two-bedroom due to its generous size.
The Chelsea's spacious living room.
Lily's favourite development of course is Parc Tondu, but she's also very fond of Cae St Barrwg and Hawtin Meadows as she spent much of the last five years working there.
One of Lily's main aims for the future is to see Parc Tondu through to the end, as she said, "to move every single buyer into their new home on Parc Tondu would be fab!"
"From Lily's initial appointment as a Trainee Sales advisor, she has shown a desire and enthusiasm to learn every aspect of the requirements of the role and she has matured into an extremely capable and valued member of the sales team. The role of a Sales Advisor is hugely important in providing our valued clients with the very best levels of service throughout their home buying experience. We are delighted to have been able to reward Lily's commitment and hard work with being Sales Advisor at our very latest development at Parc Tondu", said Sales Director, Tim Grey.