First residents move into St Llid's Meadow
13-Jul-2015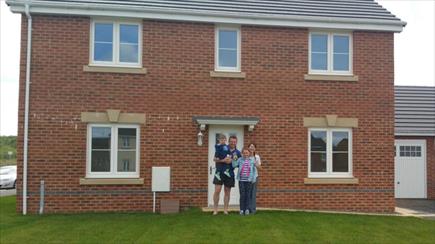 First residents move into St Llid's Meadow
Llanmoor Homes is delighted to have welcomed the first residents to their St Llid's Meadow development in Llanilid, Llanharan.
St Llid's Meadow is Llanmoor Homes' third development in the Llanharan area and has attracted a lot of attention from buyers, with 13 of the first homes to have been released already sold or reserved.
Christina and Dary Money are the first residents to move into the development and have been delighted with their 4 bedroom detached 'Colwinston' home.
Christina said: "Initially we didn't want to look at new housing developments because we thought that they would be very built-up with small plots and fewer parking spaces but the Sales Negotiator, Sue, really sold it to us. She assured us that Llanmoor houses are designed with larger plots so residents can have more outdoor space and this was immediately obvious when we first visited the site and saw the show home."
"We looked at some older homes as well, but we found that the layouts of Llanmoor's homes were much more open and spacious. The Colwinston has a very large garden and lots of extra parking spaces. We chose St Llid's Meadow because of the proximity to good schools and the location in a quieter area away from the motorway. We were looking for something long-term and this house has everything we wanted, it's our forever home!"
The couple were able to purchase their home thanks to the Help to Buy Wales shared equity scheme. The scheme enables buyers to purchase a new build property up to the value of £300,000 with as little as a 5% deposit and 75% mortgage, with the government providing a 25 year equity loan for up to 20% of the property value.
Christina continued, "If it wasn't for Help to Buy we would never have been able to afford a house of this size and quality, and it was only when Sue made us aware that we were eligible for the scheme that we considered it.
"We had a great experience buying with Llanmoor and Sue was very welcoming, friendly and helpful. We also met with the site manager, Mark, and it was obvious that he takes great pride in the work he does and ensures everything on the site is done properly. The house is very well made and no corners have been cut. In truth we can't praise Llanmoor enough!"